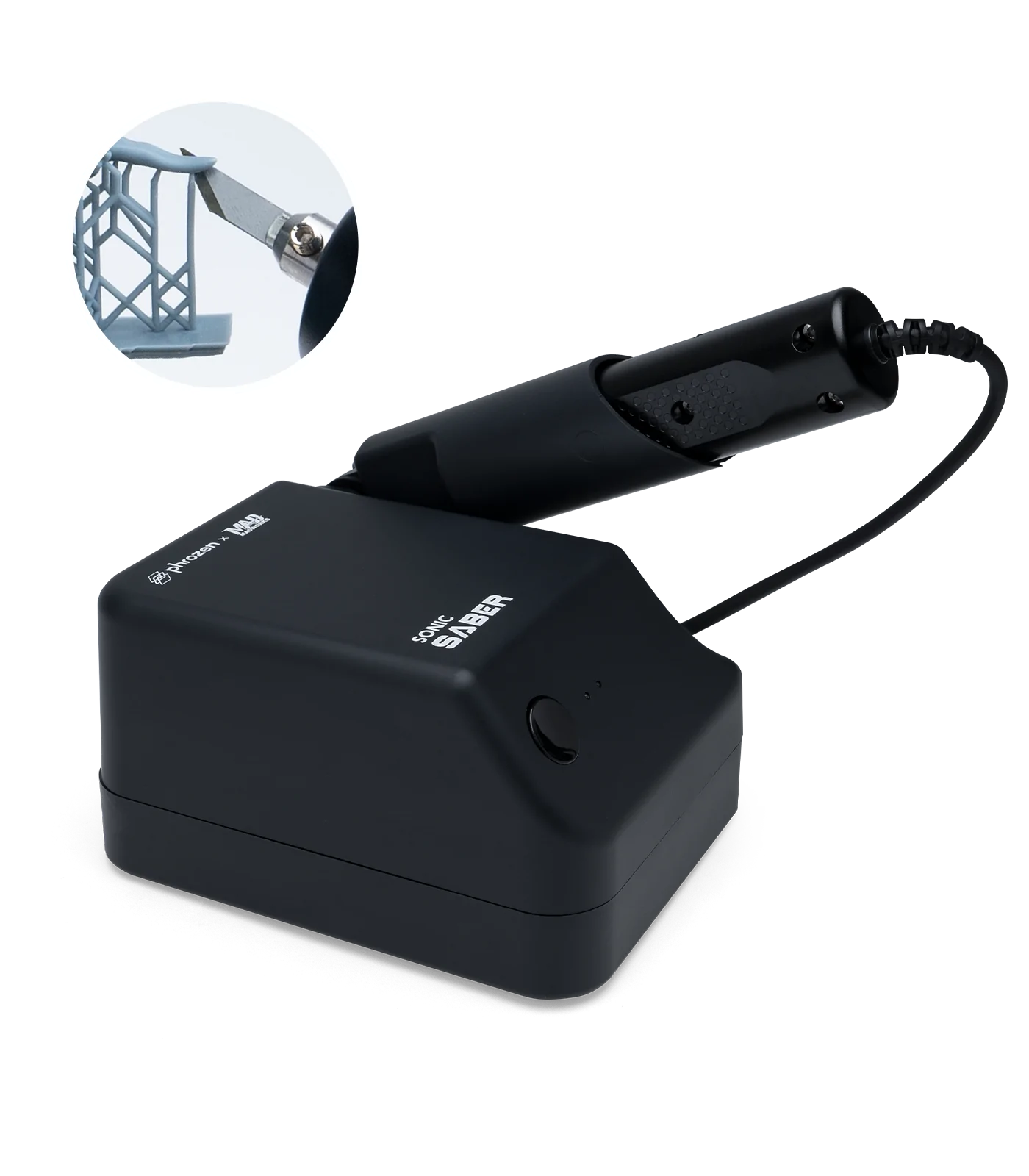 Phrozen Sonic Saber Ultrasonic Cutter
---
Perfecting 3D Prints with Precision and Ease
Phrozen Sonic Saber makes removing supports hassle-free with the power of ultrasonic cutting. With 40,000 blade vibrations per second, our ultrasonic cutter helps you trim and finish 3D prints at high-precision margins with ease.
Refine Your Prints with Ultrasonic Cutter
Intuitive pen-shaped design with ultrasonic vibration

Extreme cutting precision on intricate parts

Remove supports while keeping all the details
Benefits
Remove Support Effortlessly:

Sonic Saber cuts through the supports fast and smoothly without leaving any marks.

Refine Models with High Accuracy:

With Sonic Saber's accuracy, trimming joints, touching up errors, and refining models is as easy as it gets.

Cut Supports with Excellent Precision:

With ultrasonic vibration, Sonic Saber precisely cut supports even from narrow gaps that were unreachable with pliers.

Applicable for Cutting Various Materials:

Sonic Saber can cut through a wide range of materials, allowing you to create and craft any projects across your creative practices.
Resources
Specs 



Oscillation Frequency: 40 kHz

Dimensions:

Body: L129.1 x W125.3 x 70.5 mm

Cutter: L133 x W30 mm

Weight: 300g (Handle 75g)

Handheld Cable Length: 1050 mm

Power Requirement: DC 12V 3A

Additional Blade: L18 x W4 x H0.38 mm

Blade Angle: 30° sharp angle
Precautions
Please DO NOT touch the product with wet hands.

Please wear cut-resistant gloves when handling the product.

DO NOT expose the machine to liquids of any kind.

If the device is exposed to water, discontinue use immediately. 

Please do not use this product to cut oil paper and/or other flammable objects.

Do not point the Ultrasonic Cutter at others.

Keep away from children.

Please do not use this product to cut metal or glass.

DO NOT touch the blade immediately before or after use as high temperatures can cause burns.

Danger - High Voltage! Non-professional personnel should avoid disassembling the product on their own to prevent injury from accidental touch.
Maintenance
Please use sanitizing alcohol to clean the exterior of the device. Do not use any oily or corrosive liquids to clean the device.