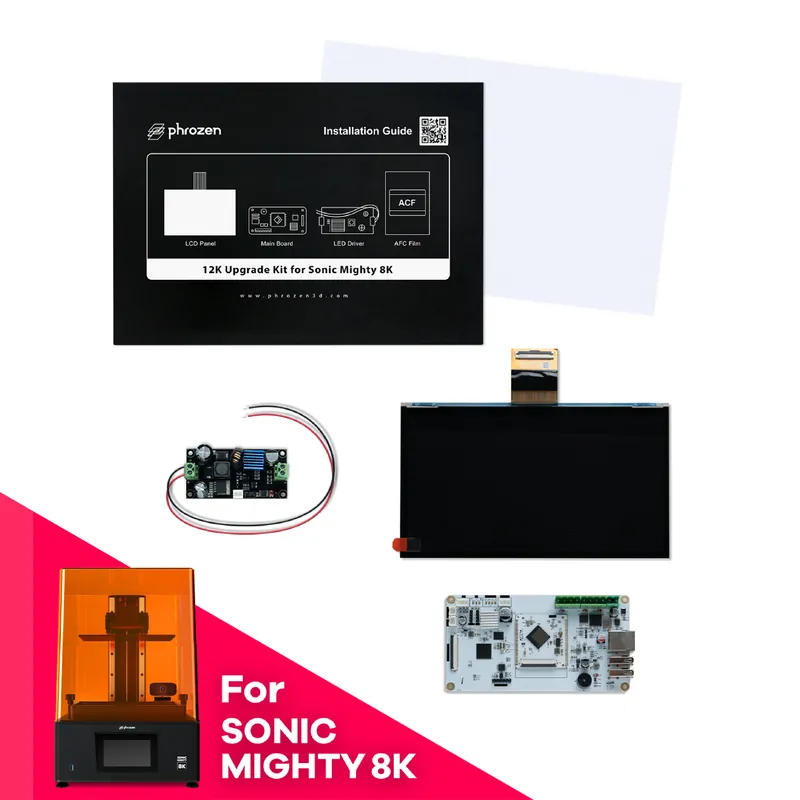 Phrozen 12K Upgrade Kit for Sonic Mighty 8K
---
Upgrade to 12K: Unlock the Potential
Upgrade your Sonic Mighty 8K with Phrozen 12K Upgrade Kit to experience the capability of 12K printing now. Achieve effortless higher printing quality just by replacing a few key components.
Want to make it even better?
We pair it with Phrozen ACF Film to increase the speed and efficiency during printing, so you can achieve a successful print each time.
Unlock the full potential of your Sonic Mighty 8K with the Phrozen 12K Upgrade Kit.
During the limited-time pre-order promotion, the product is only available for HKD 1,950 (original price HKD 2,599). Within the pre-order period, you may receive a free Number 4 resin (Milky White or Diamond Black)
Free On-Site Replacement Service:
1. Customers who present a receipt proving the purchase of a Sonic Mighty 8K LCD 3D Printer from our company are eligible for a free on-site replacement of the full 12K upgrade kit (including: 12K LCD panel, main control board, LED driver board, and ACF release film). For printers purchased from other companies, a service fee of HKD 500 will be charged.
2. Prior to replacement, we will inspect the machine and provide maintenance if necessary.
3. After replacement, we will perform basic testing to ensure the 3D printer is functioning properly.
* Advance WhatsApp reservation is required.
* Depending on the order situation, the replacement process may take 3-7 days.
 Benefits
Print Yet-To-Be-Seen Details: Experience a new level of quality and details with 19µm resolution on a 12K screen.

Consistent Results, With Speed: Equipped with the new ACF Film* to boost printing speed, and success rate, and optimize the overall printing process, thanks to less suction force.
Items including:
10" 12K Mono-LCD x1


12K Mainboard x1


12K LED Driver x1

10.1'' LCD Frame Tape x1


LCD Screen Protector (pre-installed) x1
Specifications
Phrozen ACF Film - Mighty 8K
Material: ACF


Colour: Transparent


Size: 220 x 310 mm

Applicable Models: Sonic Mighty 8K

Spec: 300 μm

*Note: The glossy surface will be in the resin vat, while the matte surface will be face the LCD screen.