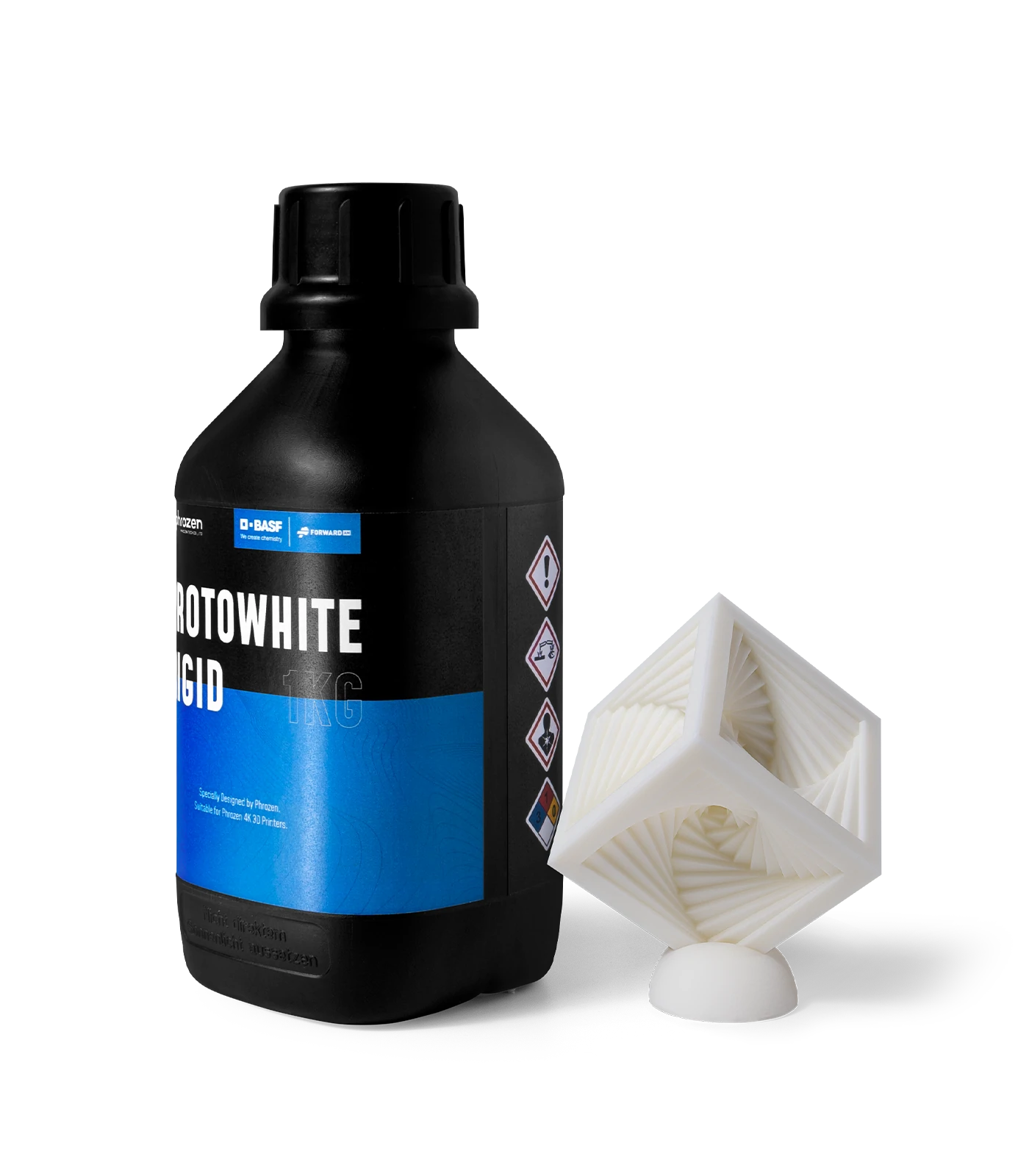 Phrozen Protowhite Rigid Resin - 1000g
---
Protowhite Rigid Resin - Design Prototyping Made Easy
Empowered by one of the most prestigious chemical company BASF Forward AM , Phrozen Protowhite Rigid Resin enables designers to conduct in-house prototypes efficiently before moving onto the manufacturing stage.
Benefits
Rigid Resin Empowered by BASF Forward AM: Phrozen Protowhite Rigid Resin empowers industrial designers to solve design challenges and increase efficiency during the design validation phase by creating rigid and impact resistant 3D models.
Visualize Your Design Ideas With Ease: Turn conceptual ideas into complex 3D models to showcase small batches of high-quality prototypes for more efficient communication.
Best for Prototype Developments: Experiment and compare various 3D printed prototypes such as mechanical parts, jigs, fixtures, and glasses to refine design usability.
Save Time With Rapid Prototyping: Demonstrate 3D models and gather feedback from peers to identify improvements and reduce risks of design defects before going into full-scale production.
Resources
Precautions
Way to Rinse: Clean with alcohol spray with an air gun. DO NOT immerse the model into alcohol for a long time.
Use and preserve resins in room temperature, and in dark and ventilated conditions
Shake well before each use
After printing, please keep used resins in a closed & opaque bottle. Avoid mixing used resin with a new resin.
Keep resin away from kids and away from direct sunlight exposure
Wear gloves and masks during the operation of resins. Wash with plenty of water if you get direct skin contact or eye contact with resins.
DO NOT dump resin. Please cure it and treat it as general plastic garbage.
After receiving your Phrozen resins, we strongly recommend you finish it as soon as possible as unopened resins only have a shelf life of one year.