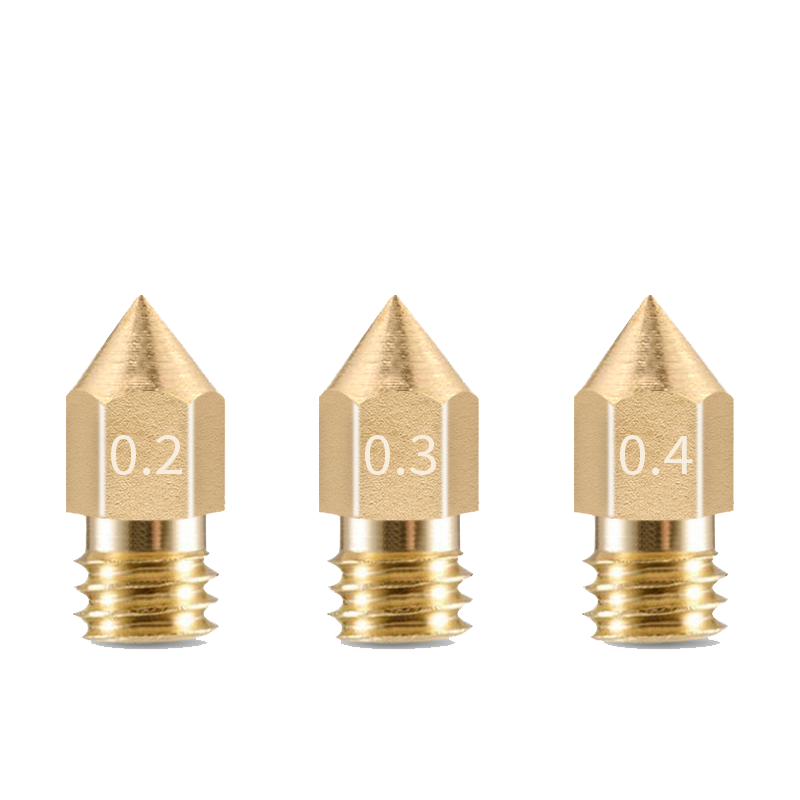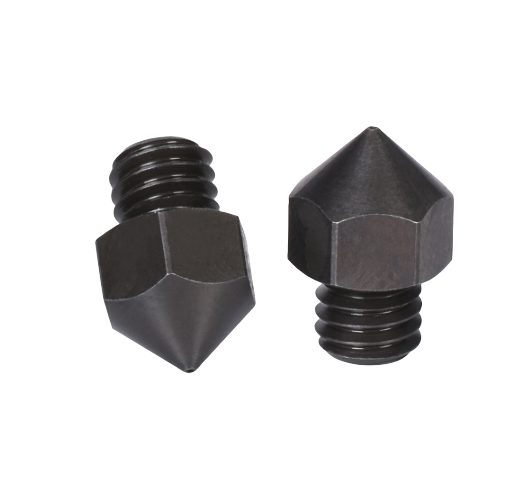 FDM 3D Printer MK8 M6 Nozzle - 1.75mm
---
Brass:
Precise Design–The 1.75mm Input 0.2mm extruder nozzles produce consistent prints with smooth and glossy polish. Reduce the resistance from the corners and avoid blocking the filament with a rounded chamfer.

Material—The 3D printer nozzle is made of brass material, Against rust or erosion, sturdy and durable, connect with M6 out the thread, easy to install

Applicability and compatibility— Fit for 3D Printer CR-10, MK8, compatible with all 1.75mm PLA ABS 3D printers.

Note—After replacing the nozzle, please check the distance between the nozzle and build plate to ensure the quality of print parts.
Hardened Steel:
Durable material: all the 3D printer extruder nozzles are made of quality hardened steel with smooth inner surface without any burrs, and the cleaning needles are made of stainless steel, which is durable and rustproof, large quantity will meet your various requirements

Parameter and specifications: input diameter: 1.75 mm, output radius: 0.4 mm, out thread: M6, thread length: 4 mm, and the outer surface is marked with a size, so you can easily identify the specifications of the nozzles

Precision and finishing process: these hardened steel nozzles adopts the centering CNC precision automatic lathe design, which ensures that the input and output holes are concentric and the interior of nozzle is smooth without burrs; The shape is smooth and bright, and the lettering is clear, so that you have a good distinction, nine workmanship makes sure a good performance

Wide compatibility: the MK8 nozzles are compatible with 3D printer Makerbot Creality CR-10, MK8 Makerbot Reprap Prusa I3, also compatible with 1.75 mm PLA ABS 3D printer; Diamond knife cutting makes the contact surface more flat to effectively prevent printhead from leakage and avoid nozzles clogging