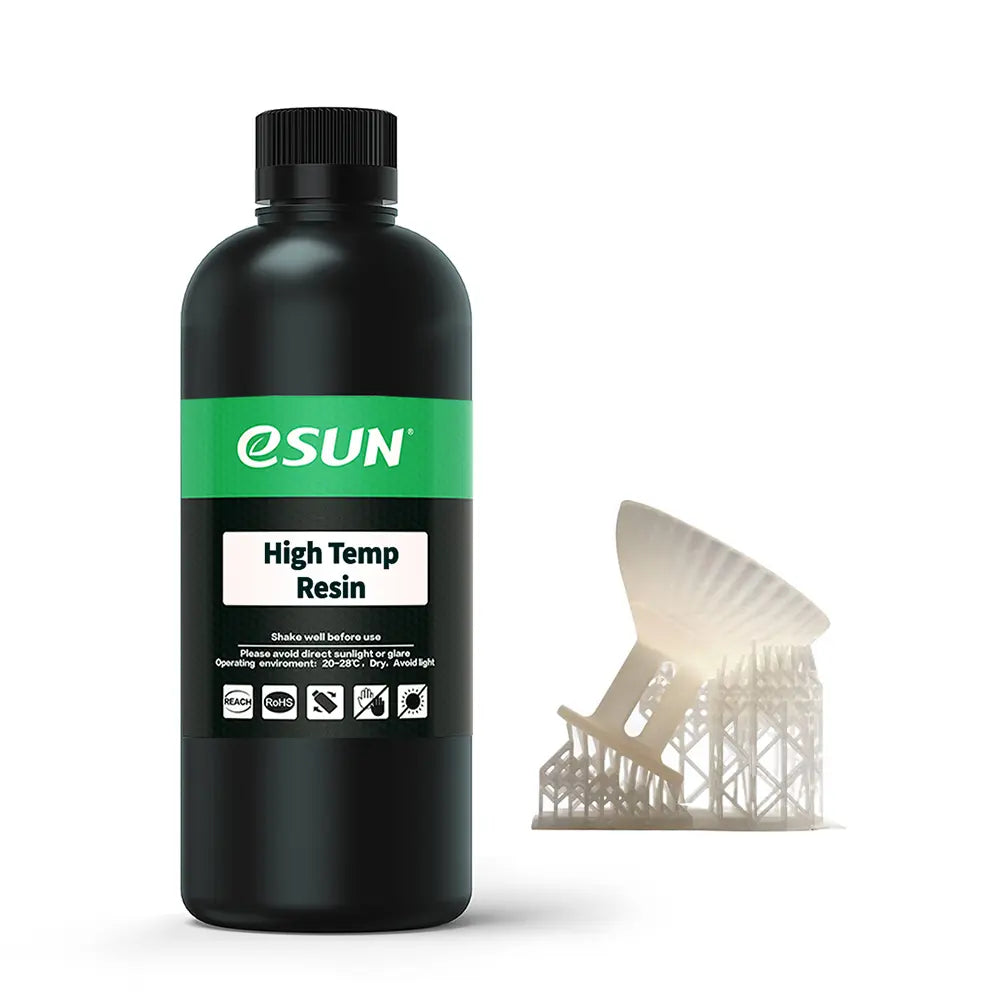 eSun High Temp Resin - Transparent - 1000g
---
【Bright and vivid colors】 Thanks to high quality pigments and photoinitatives inside the ESUN UV-LCD resin have the models printed with a very clean and staggering color effect as a work of art.
【Rapid curing and great stability】 Low viscosity and excellent liquidity make it easy to separate the cured resin from unzilized. Esun LCD Resin has been designed to reduce print time due to its excellent fluidity. Also, this UV resin has a good combination of elasticity and toughness, strong adhesion of the model and easily separates after forming.
【Professional LCD Photodeless resin】 Specially designed for LED light source to achieve better print quality. Esun Flexible Resin is compatible with most LCD 3D printers for rapid prototyping. Ideal for phones, medical models, toys and shoe models.
【Safe and secure packaging】 Clean weight: 500 g. Fat aluminum bottle completely protection from light. A leak -resistant bottle fully packed in a plastic bubble bag to ensure that the resin remains where it belongs.
Resin Model: High Temp Resin
Viscosity(mPa·s): 180-220
Density(g/cm3): 1.09-1.10
Tensile Strength(MPa): 70-85
Elongation at Break(%): 35-40
Flexural Strength(MPa): 95-105
Heat Distortion Temp(℃): 100.5(After printing, place in a 150℃ oven for 30 minutes)
Hardness(Shore D): 82-84
How to Use:
1.Shake well before use, prohibiting the use of resin in places where there is a lot of sunlight.
2.Wear gloves before use to avoid direct contact with the skin and keep the room ventilated.
3.Inadvertent contact, as soon as possible to use a lot of water rinse. If you feel unwell, seek timely medical attention.
4.Printed models need to use high-concentration alcohol to clean about 30S (recommended concentration of 95% or more)
Safe Package:
Thickened aluminum bottle completely protected from light. Leak-proof bottle fully wrapped with a plastic bubble bag to make sure the resin stays in place where they belong.