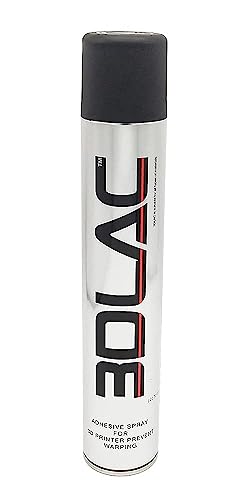 FDM 3D Printer 3DLAC Bed Adhesion Spray
---
3DLAC is a spray adhesive for the building plate. The spray adhesive has been developed by a Spanish laboratory specifically for 3D printers using FDM methods.

3DLAC is without perfume, high-temperature resistant and includes a reinforced fixative to better adhere to the building plate.

With this unique adhesive spray, you can fix the adhesion of your 3D prints objects to the heated print bed during the printing process.

Use a smooth surface, e.g. a mirror or glass, then spray 3DLAC before pressure 3DLac. You can rest assured that your object will not come off the print bed. 3DLAC is ideal for all FDM 3D printers that work with a smooth and heated printing plate.

This is the solution to stop the peeling, deformation, and warping of 3D printed parts during the printing process.